December 2011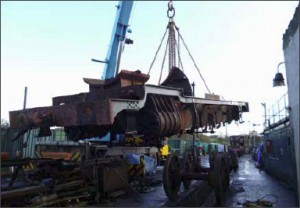 Boiler lifted
Leading truck removed
Wheels removed and sheeted
Fames returned to site outside rear of shed
November 2011
Springs and brakes removed
Under keeps removed and steam cleaned
Pony truck compensating beam and crossbeam removed
Pony truck spring beam nuts undone.
Blastpipe removed from smokebox.
Fabrication table built and new bunker floor laid out.
First angle drilled for bunker
October 2011
Bunker completely dismantled, (over 500 rivets ground out!).
Key parts have been saved and stored ready to be copied or used in the new fabrication.
Two-day shareholder working weekend organised in October.
Over 20 shareholders helped during the two days. Numerous parts removed, cleaned, painted and stored in container.
New steel profiles for bunker delivered, painted and stored.
September 2011
Boiler now free from frames and prepared for lift
All inner motion parts, from crank axle/eccentrics to valves, now sourced and secured
August 2011
A pattern of Sunday and mid week working parties established
Removed from locomotive: cab/side tanks /bunker/ buffers/draw hooks/valves/running plates/slide bars/super heater elements/steam pipes/some brake gear
June 2011
Shipping container for storage of parts obtained
4253 successfully moved from Wales and stabled in front yard of Rolvenden Works
May 2011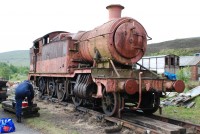 Two weekend working parties at Blaenavon Railway to prepare locomotive for transfer to Kent
April 2011
The 4253 Locomotive Company Limited incorporated at Companies House
Business Plan for the project presented and agreed with Board of Trustees of Kent and East Sussex Railway.
Permission granted to bring 4253 to KESR and commence restoration at Rolvenden Locomotive Works
4253 Purchased